May and June were a whirlwind for Metris. I attended and spoke at the ArtPlace Summit in Jackson, MS and the Americans for the Arts Annual Convention in the Twin Cities. I love contributing to (and learning from) communities of practice. It's such a pleasure to get out of the office and connect with colleagues doing place-based work around the country.
Heading to Jackson, my only association with it was this version of Johnny Cash's song "Jackson" by the Carolina Chocolate Drops. I came away with a fuller picture of Jackson, as a place, and the successes and challenges facing folks doing creative community development. The Cooperative Community of New West Jackson's work particularly stood out. It's trying to slow down the pace of development so that the community can build what they want and need. I keep ruminating about how we can listen and respond to different, unique tempos of development in each community—social development AND physical development. When do we need to build people power before something physical is built? When is it okay to build something physical and build people power along the way?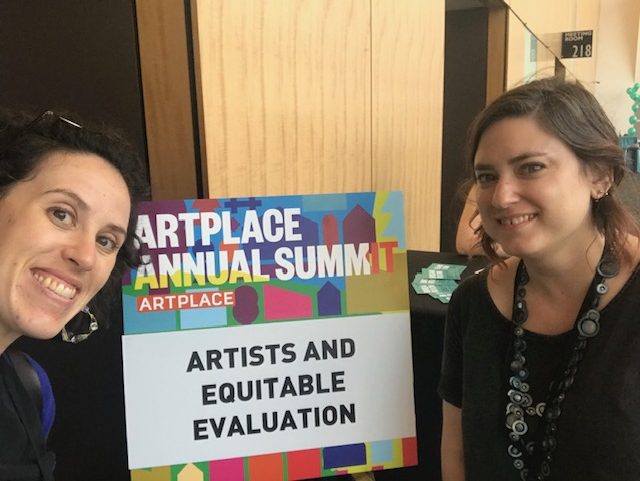 The learning community ArtPlace has built through the Summits was also clearly evident and impressed me. Rachel and I offered a workshop, "Artists and Equitable Evaluation." We shared our experiences doing equitable evaluation and how we partner with artists to enhance our participatory approach. Both times we offered it, participants came ready to engage in generous and critical conversation. In one break out discussion, an artist who holds a leadership role in his community of Indigenous artists asked how he should equitably evaluate their core initiative. The group offered him a lot of practical advice drawn from their own experiences as evaluators. In the same group, a funder asked, "What would be an IN-equitable evaluation?" That generated a lively discussion about how evaluation has been done for the benefit of funders or researchers, instead of the communities at the heart of the work.
My Twin Cities experience was jam-packed. I saw tons of public art and had wonderful interactions with public art colleagues from across the country. Rachel and I both gave presentations during the main convention, but I got to soak up the Public Art Pre-conference purely as a participant. One of the highlights was my informal tour of the Nicollet Mall. I walked along the mall on my way to the conference hotel. I noticed the dense concentration of public art pieces (there's a great public art map of the mall here and a blog with further documentation of the artwork here). I stopped to listen to a gentleman (Fabian) playing one of the painted pianos. He and I struck up a conversation. Later, folks from the conference and I walked along Nicollet Mall on the way to dinner. Just as we were about to turn off, we noticed Tristan Al-Haddad's "Nimbus" in front of the Minneapolis Central Library. On this mild summer evening, a number of people were hanging out (with more piano playing!) within the sculpture's theatre in the round. A library with an artistic outdoor performance space attached is sure to give me a thrill. (At LA's Woodcrest Library, Swift Lee Office's "Butterfly Wings and Scales" was also aimed at creating a flexible outdoor programming space. This was one of the four sites in my Art as Infrastructure evaluation project.) I'm also currently reading "Palaces for the People," Eric Klinenberg's book. It's about how social infrastructure that facilitates interactions in public space "can help fight inequality, polarization, and the decline of civic life." I loved seeing public art interventions contributing to that infrastructure!
Anne founded Metris in Minneapolis, and Rachel and Anne both have ties to the Twin Cities. I valued connecting with people, places, and projects in Metris' former backyard. In a pre-conference tour, I got to hear about the work of Pillsbury House + Theatre, listen to a poem read by Molly Van Avery from her Poetry Mobile, tour the Chicago Avenue Fire Arts Center, see an interior mural of neighborhood women with Councilmember Andrea Jenkins (who is also featured in the mural), and hear a talk by Wing Young Huie in his Third Place Gallery. What a wonderful way to experience artist-led community development. I had a chance to immerse myself in the artist network that Metris identified in our evaluation of the Pillsbury House + Theatre's Arts on Chicago and Art Blocks projects.
Now back at my desk, both of these conferences have left me thinking… learning experiences can be so rich when they include space for sharing our successes and challenges with our peers. And when they reflect on experiences of place in place. What facilitates your best learning experiences at conferences?