Case Studies
Mural Arts Institute Learning Synthesis (2020)
Mural Arts Philadelphia (Mural Arts) engaged Metris to support learning for its knowledge-building and sharing efforts through the Mural Arts Institute. Through the Institute, Mural Arts facilitates capacity-building programs and knowledge-sharing with municipalities, artists, arts administrators, and community representatives from across the country and internationally. Metris first fleshed out the methods, goals, and audiences of the learning synthesis effort. Then, in collaboration with Mural Arts and its stakeholders, Metris identified exemplary practices embedded in past projects and developed a range of materials to support Mural Arts Institute activities. These include a synthesis of promising practices, case study "project spotlights," as well as a tool-kit in the form of a deck of cards.
Download/purchase tool-kit (deck of cards) | Download pdfs: Learning from the Process: Promising Practices | Project Spotlight: ASpire: No Limits | Project Spotlight: Micro to Macro | Project Spotlight: Porch Light Storefronts
Pittsburgh Artists Working in Communities (2019)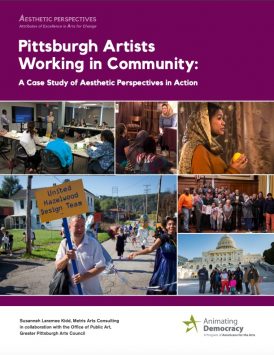 Americans for the Arts' Animating Democracy engaged Metris to develop this case study of its Aesthetic Perspectives framework in action. It profiles how the Pittsburgh Office of Public Art applied the framework as it supported a deepening role for artists working in the public realm through residencies and cross-sector partnerships. The case study explores the use of the framework as: 1) an evaluation tool, 2) a content-rich guide for artist inquiry and exchange, and 3) an aid to articulate values underpinning a new program and to guide selection panels to discuss aesthetic qualities and ensure equity.
Aesthetic Perspectives resources | Download pdf
Arts, Culture and Community Outcomes (2017)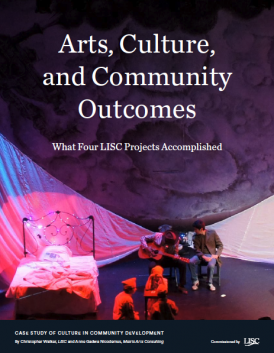 Part of a series of reports and case studies commissioned by LISC (Local Initiatives Support Corporation), Arts, Culture, and Community Outcomes: What Four LISC Projects Accomplished uses programs in Duluth, Minnesota, Richmond, California, Pittsburgh, Pennsylvania, and Indianapolis, Indiana to analyze what arts and culture add to community development efforts, particularly insights to how these programs had an impact on economic and social change. Each of these programs are explored in more depth as case studies, part of a series on the intersection of community development with arts and culture, published by LISC and Metris Arts Consulting. The series also includes papers on artists as leaders in community development (Not Just Murals) and the economic benefits of arts-and-culture led community development (More Than Storefronts).
We Are, All of Us Together, Beginning a Good Life (2017)
Part of a series of reports and case studies commissioned by LISC (Local Initiatives Support Corporation), We Are, All of Us Together, Beginning a Good Life looks at a LISC project in Duluth, Minnesota. Named after an Ojibwe phrase that translates as "we are, all of us together, beginning a good life" Gimaajii-Mino-Bimaadizimin is a community center and 29 units of permanent supporting housing for Native American women and children in downtown Duluth, Minnesota. We relied on many perspectives to weave the story of Gimaajii's impacts. We brought together eight Native American artists for a focus group; interviewed 17 people with various relationships with Gimaajii, including staff and board members, artists, and a resident, as well as staff from other housing and human services government agencies, local nonprofits that focus on homelessness and Native American health, and funders. We also toured the facilities. Although AICHO only opened Gimaajii's doors in 2012, we heard and saw how Native American and non-Native American communities in Duluth and beyond have already benefitted in many substantial and life-changing ways.
Deep Roots Wide World (2017)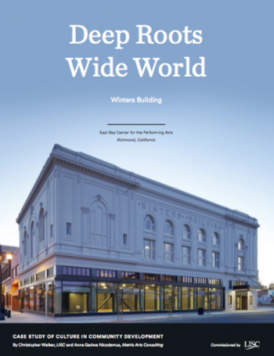 Part of a series of reports and case studies commissioned by LISC (Local Initiatives Support Corporation), Deep Roots Wide World looks at a LISC project in Richmond, California. The East Bay Center for the Performing Arts in Richmond California has a mission to engage "youth and young adults in imagining and creating new worlds for themselves and new visions for their communities through the inspiration and discipline of rigorous training in world performance traditions." In the 2016–17 school year, the Center involved 5,500 participants in its nationally-recognized programs, including year-round courses, private instruction, music, dance and theater instruction at 20 local K–8 public schools, and an intensive tuition-free Young Artist Diploma Program. Youth performances drew nearly 30,000 audience members to a variety of community venues. On walls throughout the Center, placards reading "Deep Roots Wide World" remind students of their charge: To forge deep roots in their own communities. Respect the many cultures that make up Richmond and the broader world. The Center's arts programming aims not to launch students into artistic careers, although some have taken that path, but to build individual character and strengthen communities through instruction imbued with values of mutual respect, multiculturalism, and social justice. In 2012, the Center opened its newly renovated home in the Winters Building, an historical structure situated on a downtown commercial corridor that has seen better days. The upgrade supported a dramatic expansion of the Center's youth work, which reaches deep into the low-income neighborhoods of Richmond, a city with a population of about 110,000. In addition, the revitalized building, together with nearby public improvements, may lay the groundwork for commercial revitalization along the corridor. In April of 2017, researchers visited the East Bay Center and conducted interviews with staff, parents, and community partners to explore the social and economic impacts the Winters Building renovation and the Center itself have produced.
The Many Sides of Fountain Square (2017)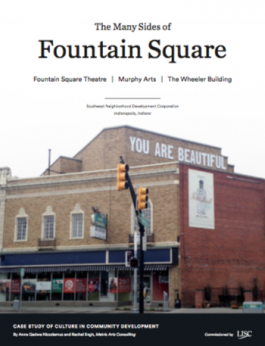 Part of a series of reports and case studies commissioned by LISC (Local Initiatives Support Corporation), The Many Sides of Fountain Square looks at a LISC project in Indianapolis, Indiana. Not too long ago, you probably would have wanted to stay clear of Fountain Square, with its drug houses and vacant buildings. Things have changed, however, and not just the new range of entertainment and dining choices—Fountain Square has added new businesses, housing stock, and people, too. Some residents and visitors welcome these changes and others feel threatened. What is clear, though, is that revitalization efforts that focused on restoring entertainment venues, creating new facilities, and establishing housing for artists have been successful in altering the trajectory of Fountain Square. The catalyst for this change was the restorations of three major buildings in the community, supported by the Local Initiatives Support Corp. (LISC): the Fountain Square Theatre Building, the Murphy, and the Wheeler. Investment in these buildings allowed Fountain Square to develop an arts-and-entertainment destination identity and experience a dramatic turnaround from market failure to stability to what now has even become speculation.
Vacancy to Vitality in Pittsburgh's East End (2017)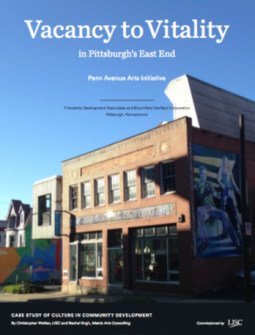 Part of a series of reports and case studies commissioned by LISC (Local Initiatives Support Corporation), Vacancy to Vitality in Pittsburgh's East End looks at a LISC project in Pittsburgh, Pennsylvania. In the late 1990s, Penn Avenue in Pittsburgh suffered the kind of dereliction that afflicts many Rust Belt commercial corridors: vacant and boarded up storefronts, dangerous levels of crime. In 2017, Penn Avenue offers a different kind of experience. Little Angels Learning Academy provides daycare, and Aahmani Afrikan Braids offers hair care. Most Wanted Fine Arts is "a community service organization disguised as an art gallery." People's Indian Restaurant is open for lunch and dinner, and Assemble hosts classes, summer camps, birthday parties, and more for learners of all ages interested in arts and technology. These and other businesses along the 12-block strip signal the emergence of a vital and economically diverse commercial corridor. Under the direction of a full-time artist-organizer, the Penn Avenue Arts Initiative (PAAI) attracted artists and arts organizations to the district by actively marketing mixed-use spaces and creating custom packages of property purchase and rehabilitation subsidies to give an ownership stake. Black artists have begun to move onto the corridor, and many of the arts and cultural organizations have worked hard to reach out to area youth to learn artistic skills and explore their creativity. Not every aspect of Penn Avenue's turnaround worked as planned, however, most notably the hopes that a revitalized Avenue would close the seam between two racially and economically distinct neighborhoods.
How Creative Spaces Foster Civic Engagement (2015)
Conducted in collaboration with Zimbab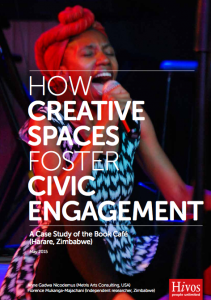 we-based researcher, Florence Mukanga-Majachani, this case study explores how the Book CafĂ© has fostered activism and civic engagement in Zimbabwe. Findings suggest that the Book CafĂ© fosters civic engagement and activism through four main channels. It provides platforms for freedom of expression and debate. It empowers marginalized groups, specifically women and youth. It fosters connections and collaborations by serving as a meeting ground. Lastly, it nurtures art and artists committed to socially relevant work. The Book CafĂ© offers a number of lessons to others interested in cultivating creative spaces to foster civic engagement in repressive contexts. Interviewees saw five values and offerings as instrumental to deepening the Book Café's stewardship of civic engagement and activism: cultivate a sense of 'home' for participants; offer an eclectic mix of activities; maintain a staunch commitment to freedom of expression; demonstrate integrity, persistence, and savvy in the face of political repression; and strive for relatively autonomous funding streams and spaces. Commissioned by Hivos.
Cultural plan backs up "creative city" branding (2012)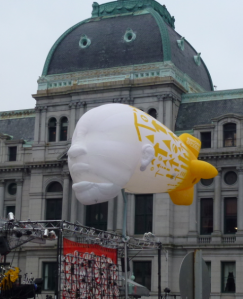 This commissioned case study reveals how Providence, RI's cultural plan lent gravitas to "creative capital" branding. Politically savvy leaders with diverse talents and skill sets, a thoughtfully crafted planning processes, and robust and inclusive public participation proved of critical importance to Providence's cultural planning effort. Commissioned by the Hong Kong Institute of Contemporary Culture for the Chinese Creative Industries Forum 2012.