Planning
We help clients equitably advance cultural vitality. We connected Grand Rapids, MN with a strategic vision to shape municipal policy and resource allocation for arts and culture. We lead a creative community development planning process for NeighborWorks America. And, we helped Plainfield, NJ assess converting a former church into a cultural arts and education center. We provide:
Cultural plans for districts, cities, towns & regions
Strategic advice to advance equitable outcomes
Creative community engagement
Arts-based public participation
Cultural asset mapping
Public art planning
Research for cultural facility development
Chicago Monuments Project (2022)
Monuments and memorials have become a focal point for conversation, protest, and activism in Chicago. In response, the City created a committee to review its collection of monuments and recommend solutions. The Chicago Monuments Project (CMP) initiated a comprehensive, community-focused engagement process— the first of its kind in a major U.S. city. Thousands of Chicagoans from diverse communities contributed to this conversation on the City's public monuments through several modes including surveys, live discussions, and free-response online submissions. The CMP seeks to grapple with the often unacknowledged — or forgotten — history associated with the City's various municipal art collections. CMP provides a vehicle to address the hard truths of Chicago's racial history, confront the ways in which that history has and has not been memorialized, and develops a framework for marking public space that elevates new ways to memorialize Chicago's true and complete history. Metris Arts Consulting led the analysis of public engagement data and development of the final report. Report findings reflect the public's desire for new monuments that equitably acknowledge Chicago's shared history.
Project website | Download report
Cultural Asset Mapping – Year of Chicago Theatre (2022)
The City of Chicago Department of Cultural Affairs and Special Events (DCASE) and the League of Chicago Theatres designated 2019 as the Year of Chicago Theatre to celebrate and build a stronger, more diverse, and inclusive performing arts sector. As a legacy of that year, the League and DCASE invested in a deeper understanding and engagement with theater and performance assets in the South and West Sides of Chicago, areas which have traditionally had less support and formal infrastructure for the performing arts. Artist teams mapped cultural assets on the South Side and the West Side of Chicago. Metris supported the teams and developed a series of policy and programmatic recommendations to help build the performing arts sector in underserved areas of Chicago. The recommendations align with opportunities within Mayor Lightfoot's INVEST South/West initiative and upgrades coming to Chicago Parks District and Public Library facilities. The final report documents the cultural asset mapping process and findings. It aims to catalyze the development of long-term support systems and infrastructure for the performing arts on the South and West Sides of Chicago.
Download pdfs: Report | Slide Deck | Appendix
Charting Intermedia Arts' Next Chapter (2019)
Intermedia Arts' mission reads, "Intermedia Arts is a catalyst that builds understanding among people through art." For over four decades, Intermedia offered support for underrepresented artists and community members in the Twin Cities. In 2018/2019, Intermedia faced a pivot point. Amid a financial crisis, the board decided to lay off all staff and sell its building in order to address and overcome that crisis. The board subsequently engaged Metris along with social practice artist Marcus Young. Metris and Young served as thought partners to help Intermedia better understand how it could invest the remaining $1 million in proceeds from the building sale in a way that continues to fulfill its mission and meets the needs of the arts community it traditionally served.
Cultural Asset Mapping (2019)
Biomed Realty purchased one of the last remaining open parcels in the Kendall Square section of Cambridge, Massachusetts. BioMed Realty engaged Metris to identify what physical cultural assets already exist in the Cambridge area and identify gaps in the marketplace. Metris developed an extensive database of cultural assets, created a series of thematic, regional maps to illustrate clusters of cultural assets and delivered an interactive map of cultural assets, so that the client can conduct further analysis as the development plan progresses.
Plainfield Cultural Arts Education Center (2018)
The City of Plainfield, New Jersey found itself facing an exciting prospect—the transformation of the soon-to-be-vacated First Unitarian Church into a vibrant, multi-use, cultural arts education center. Metris contributed its experience in cultural planning, cultural facility development, creative placemaking, and municipal arts program development. The City engaged Metris to investigate comparable projects to identify the elements of a successful development, what their operation comprises, and what kind of a public planning process they undertook. Metris conducted a site visit to the First Unitarian Church to better understand the space and the condition of the building. We then researched three successful multi-use arts centers in former sacred or historic spaces. We then developed key findings and recommendations that the City can incorporate into the planning and feasibility process to realize a multi-use cultural arts education center.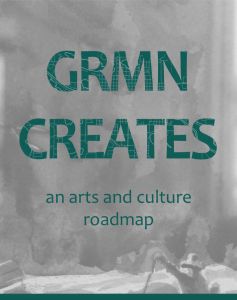 GRMN Creates: an arts and culture roadmap (2015)
Metris Arts and strategic partners GO collaborative and Markusen Economic Research developed a ten-year, strategic arts and cultural plan for the City of Grand Rapids, MN. We connected Grand Rapids with a community-backed, strategic vision that will help to shape all aspects of municipal policy and resource allocation related to arts and culture.
Read Online | Download pdfs: Full Report | Intro & Goals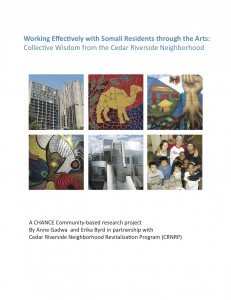 Working Effectively with Somali Residents Through the Arts (2009)
A study examining how the nonprofit, commercial and academic arts sectors can work more effectively with a large concentration of Somali residents in the Cedar Riverside neighborhood in Minneapolis.
Read Online | Download pdf: Working Effectively with Somali Residents Through the Arts