White Papers + Reports
The Saving Power of Community Creativity (2021)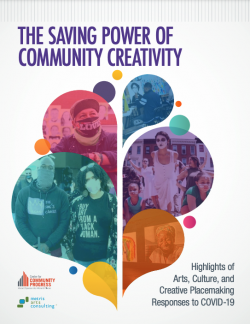 For several years, the Center for Community Progress and Metris Arts Consulting have explored how arts and culture organizations are revitalizing communities that have been hit hard with vacancy and abandonment. In mid-2020, as we began to understand the pandemic's devastating health, economic, and social impacts on communities and the policy demands surrounding the calls for racial justice, we also began hearing how community- based organizations using arts and culture had shifted their work to provide critical community support. This report highlights the efforts of creative leaders in response to the pandemic and racial injustice and seeks to inspire others trying to address acute needs through art, culture, and creative placemaking responses.
Download pdfs: The Saving Power of Community Creativity | Press Release
WE-Making: How Arts & Culture Unite People to Work Toward Community Well-being (2021)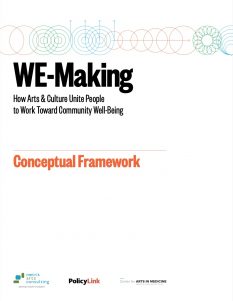 WE-Making: How Arts & Culture Unite People to Work Toward Community Well-Being shows that place-based arts and cultural practices can help grow social cohesion to encourage community well-being. WE-Making breaks new ground by synthesizing research from different areas of study along with on-the-ground experiences of artists and researchers, practitioners in community development, and advocates for health equity. The report distills that information into key terms and concepts that together demonstrate that social cohesion nurtures coordinated community organizing and can lead to increased community well-being. The Conceptual Framework maps the relationship between place-based arts and cultural strategies, social cohesion, and increased equitable community well-being. Theory of Change and Case Studies highlights key findings from the Conceptual Framework through an accessible narrative. The Literature Review provides an overview of the academic research on social cohesion for students and researchers. The Appendices dive more deeply into the project's methodology and research.
Download pdfs: Theory of Change and Case studies | Conceptual Framework | Literature Review | Appendices | Promising Practices Memo | Webinar | Practice Example Repository
Creative Placemaking Public Resources Guide (2021)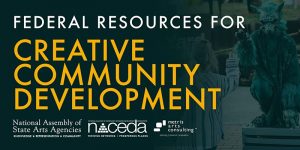 The National Assembly of State Arts Agencies, in partnership with ArtPlace America, engaged Metris to develop the Creative Placemaking Public Resources Guide. This web-based resource helps community development practitioners, artists, and arts and cultural organizations survey the landscape and decode the language of federal government funding opportunities that might support creative placemaking efforts. It provides a curated selection of federal funding sources that can be used to advance equitable community development. Through examples, it illustrates initiatives that have transformed local community development efforts through creative partnerships. It provides practical tips on accessing federal grant programs. The project culminated in a webinar to introduce users to the guide that attracted over 1500 registrants.
Creative Placemaking on Problem & Vacant Properties (2018-2019)
Center for Community Progress strives to foster strong, equitable communities where vacant, abandoned, and deteriorated properties are transformed into assets for neighbors and neighborhoods. Community Progress first engaged Metris Arts Consulting to support a project that helped four cities identify challenges to using creative placemaking on vacant properties to foster equitable revitalization. Cohorts from four cities participated in learning exchanges to gain knowledge and tools. Community Progress gained new insights into the relationship between local priorities and creative placemaking for vacant property revitalization. Metris next supported Community Progress in a national scan to explore a wider range of creative placemaking projects on problem properties and especially focus on regulatory challenges and solutions. Both phases of the project share lessons learned to mobilize a national audience.
Download pdfs: Trends in Creative Placemaking on Problem Properties | Creative Placemaking on Vacant Properties
Not Just Murals (2017)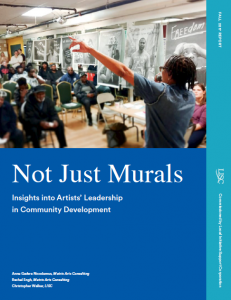 Part of a series of reports and case studies commissioned by LISC (Local Initiatives Support Corporation), Not Just Murals: Insights into Artists' Leadership in Community Development dives into the effect artists can have as leaders in their community. The report examines the nurturing of artists to be leaders, the challenges and opportunities they face, and profiles the work of many artists across the country. Not Just Murals draws upon a literature review, interviews with 15 artists leading in different facets of community development, and conversations with experts who have unique insights into regional and national context and trends. The interviews and examples draw heavily from two locales in the LISC network that are exceptionally fertile ground for artists taking up the mantle of leadership in community development, Minnesota's Twin Cities and Philadelphia, as well as several projects and artists in the South that have received support from Alternate ROOTS, a regional arts service organization that provides artist leaders with training and resources at the intersection of arts and social justice.
Read Online | Download pdf: Not Just Murals
More than Storefronts (2017)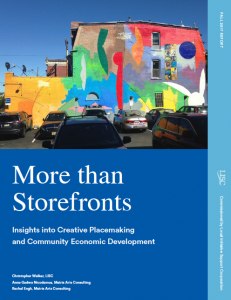 The first in a series of reports and case studies commissioned by LISC (Local Initiatives Support Corporation), More than Storefronts: Insights into Creative Placemaking and Community Economic Development posits that creative placemaking offers community economic developers a demonstrably effective way to encourage rural and neighborhood commercial district revitalization. This paper draws on six case studies of programs that have used arts and culture to help spur economic revitalization of low-income areas, from Cajun and Louisiana Creole culture in rural Louisiana to creative funding for a dance and performance nonprofit in San Francisco to affordable live-work space in Cleveland. It examines how local efforts to explicitly invest in artists, arts-related businesses, and arts-and-cultural organizations can help advance community economic development and what it takes to connect arts and culture as an economic strategy with simultaneous efforts to strengthen the social fabric in the community and advance class, racial, or cultural equity, as well.
Read Online | Download pdf: More than Storefronts
Creative Placemaking (2010)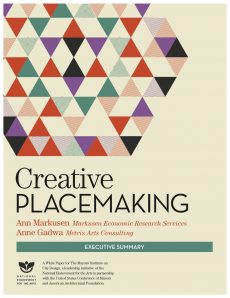 Creative Placemaking explores the livability and economic development outcomes of creative placemaking, whereby cross-sector partners strategically shape the physical and social character of locales around arts and cultural activities. The research summarizes two decades of creative American placemaking, drawing on original economic research and case studies of path breaking initiatives in large and small cities, metropolitan to rural. The report is a resource for mayors, arts organizations, the philanthropic sector, and others interested in understanding strategies for leveraging the arts to help shape and revitalize the physical, social, and economic character of neighborhoods, cities, and towns. A white paper for The Mayors' Institute on City Design, a leadership initiative of the National Endowment for the Arts in partnership with the United States Conference of Mayors and American Architectural Foundation. Creative Placemaking has also been translated into Korean (Arts Council Korea, 2014).
Read Online | Download pdfs: Executive Summary | Full Report | Korean Translation