Artists who collaborate with municipal agencies and community organizations inspire us at Metris. This work happens in many different ways. It ranges from one-off temporary installations to decades-long residencies. Those in the arts field are familiar with this work. But unfortunately, most government agencies don't understand how artists can play a role in their work.
It's hard to remember my first encounter with the artist/planner. This was definitely not covered in planning school. When I worked at the Chicago Department of Planning this wasn't yet on our radar. Theaster Gates is the first urban planner with a serious creative practice that I met. At the time (mid 1990's) he was working as a planner at the Chicago Transit Authority.
He has since built a multi-faceted creative practice exploring how the work of an artist can be rooted in the rebuilding of a community. His work and that of the Rebuild Foundation has re-defined what it can mean for an artist to have an impact on their community. He has attributed his training as an urban planner to informing his creative work.
Another early inspiration for me was the work of artist Mierle Laderman Ukeles. She is the artist in residence with the New York City Department of Sanitation. Her work explores the intersection between municipal agencies, maintenance workers, materials, performance, installation, and the public. Her work informed the creation of Boston AIR, which I helped to launch in 2015 when I was Chief of Arts and Culture for the City of Boston.
While working on the Boston Creates plan I had the opportunity to explore the role of artists in a planning process via our collaboration with the Department of Play. Co-founders Kate Balug and Maria Vidart-Delgado took an anthological approach to the work and engaged three additional artist-ethnographers: Shaw-Pong Liu, Heather Kapplow, and Leonardo March. They helped to document the process, engage those who were otherwise unlikely to participate in the planning process, and make art that helped to amplify the voices of those participants to a city-wide audience. The artists were allowed to experiment, iterate, and explore how they could infuse creativity into the planning process.
My Metris colleagues know firsthand the value of working with artists on planning and evaluation projects. We strategically incorporate artists in our planning processes to increase our artistic and cultural competencies. On our blog, Rachel Engh reflected on Metris' 2017 collaboration with artist Holly Bass. Holly worked with us to plan and facilitate a large day-long convening for our work with NeighborWorks America. Prior to joining Metris, Susannah Laramee Kidd was with the LA County Arts Commission. There she worked on an evaluation of four community-based public art projects. Artist Sara Daleiden collaborated with her to carry out the selection of the artists, help design site research, and create project-site community engagement plans with each of the artists. In Minneapolis Metris worked with artist Marcus Young to help design and carry out a research and engagement process to explore emerging artists' needs. Marcus spent nine years as the City Artist for St. Paul, Minneapolis.
I want to highlight the work of two other organizations helping to amplify the value of artistic/community collaborations and advance lessons learned.
Policy Link is documenting the work of ArtPlace America's Community Development Investments initiative. Six organizations explored how they could more effectively achieve their mission by collaborating with artists. What intrigues me most about the work is the range of partner agencies – two housing authorities, a large medical campus and a Native American youth service agency. They are not the kind of agencies that come to mind when you think about artist collaborations. The report Working with Artists to Deepen Impact is one of a series exploring lessons learned and the impact on the hosting organizations.
Animating Democracy also provides a great series of profiles of several artist/government collaborations that offer food for thought. It can be a challenge, for instance, to judge the artistic quality of socially engaged work. Animating Democracy's Aesthetic Perspective Framework provides a very useful set of guidelines for critical evaluation. Several companion guides can help you navigate the full framework's nuances. I also highly recommend Susannah Laramee Kidd's case study about how the Office of Public Art in Pittsburgh used the framework in a variety of socially-engaged artist residencies and cross-sector partnerships.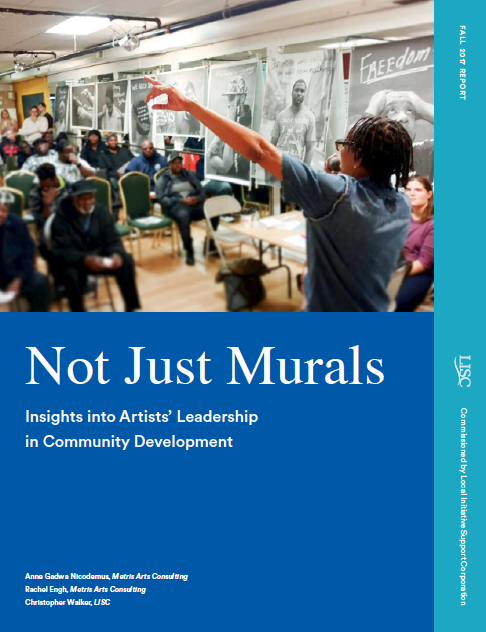 At Metris, we believe (as we lay out in our Not Just Murals report for LISC) that:
At their best, artists bring a questioning spirit, creativity, sensitivity to community, and tolerance for risk. … Artists adept at and trained in community work bring a number of specific, critical skills as leaders in community development:
— Surfacing community knowledge by asking questions and listening deeply
— Using imagination and vision to bring fresh eyes to community work
— Preparing for the uncertainty and risk inherent in community change
— Collaborating in cross-sectoral teams
— Helping community members advance into leadership roles
That's why we are passionate about helping communities thrive by incorporating the arts into their vision, strategies, processes and plans. We look for every opportunity to incorporate artists in our projects and help our clients to do the same. By working directly with artists to co-design our approach and carry out work, we can tap into their innovative approaches and learn from their creative process.