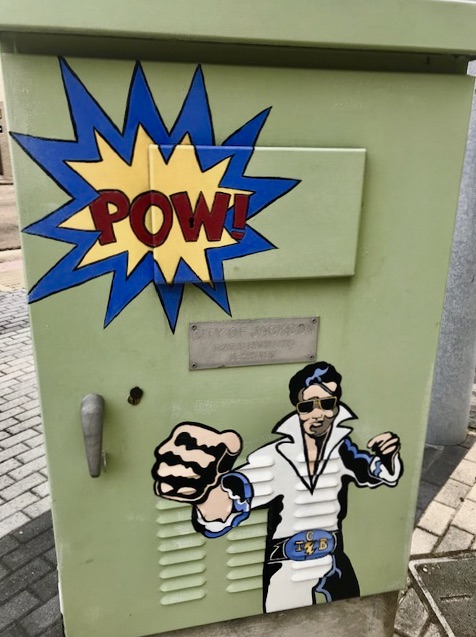 I've spent most of my life living in urban spaces. In our work at Metris, we lift up examples of arts and culture happening in communities across the U.S. I also recently joined the board of the Department of Public Transformation, an organization working to support and connect artists in rural places around the U.S. Does the fact that I've lived most my life in urban spaces compromise my ability to support work happening in rural places?
The is a gathering of folks working in rural America and rural Indian Country. The Summit is an opportunity to learn from each other and to build a national network. This year's Summit happened right after the ArtPlace Summit in Jackson, MS. I already planned to attend the ArtPlace Summit, so why not stick around Jackson for a couple more days? Attending the Rural Generation Summit allowed me some dedicated time to learn and think about arts and culture in rural communities.
Day 1: Rural Generation Summit: Homecoming
On the first day of the ArtPlace Summit, earlier in the week, we saw a map of the U.S. with differently-sized dots that told a story of how far people traveled to gather together in Jackson, MS. The dot in the Twin Cities looked to be among the biggest, in company with New York and DC. It seemed like the Rural Generation Summit skewed even more Minnesotan. One reason, I suspect, is because of Minnesota's robust philanthropic and public financial support for the arts. I met people I didn't know, working in towns I had never heard of in Minnesota. And I saw old and new friends.
I chatted with John Davis who took a cold call from me when I was in grad school; I had wanted to know about his experience creating a cultural hub in New York Mills, MN. I ran into Stephanie Rogers who I met when we were both "babies" (her word and very appropriate) in Minneapolis, I as a grad student, her just starting her social practice work. I hugged six fellow board members from the Department for Public Transformation (based in Granite Falls, MN), some of whom I had just met via video conference. I even ran into someone who went to middle school with my brother.
Connecting and re-connecting with these people and hearing, in some cases, their Minnesota accents, filled me with a delight that also resulted in slight homesickness. My name tag said "Easton, PA" but when I introduced myself to people with Minnesota name tags, I made sure to say "…but I'm originally from Minnesota" to make that connection.
Day 2: Rural Generation Summit: Invitations to Home
As we slowly rumbled out of Jackson (the potholes are pervasive there, lined with white paint to make more visible), Annette Maria Hollowell Simons-Jones perched at the front of the bus. She had her back to the road that stretched out ahead of us. She smiled and DJed blues from Northern MS, not to be mistaken for Delta blues. We were headed to a place that celebrates Delta blues, the B.B. King Museum nearly two hours away in Indianola, MS. As we drove north, Denise was charged with telling us about her family farm in Northern MS, Foxfire Ranch.
Black farmers who own land make up a very small percentage of famers in the U.S. Annette's parents, who are Black, live on land that belonged to her grandfather. A little while ago, the family built a covered paved structure for family reunions where hundreds of people came together. Once they had that infrastructure, they asked, what else can we host here? They started hosting weekly blues Sundays, where people across generations, races, and ethnicities gather. She modeled generous hospitality as she invited us multiple times to Foxfire. "You can come even if I'm not there," she said. "I'm great, but my parents are even more great."
Day 3: On the bus, to my current home
I'm writing this on the bus from the Newark Airport to Easton. It's 10:12 p.m. and I'm tired from a week of conferencing. My mind is wandering to memories of growing up. Of how my parents threw us birthday parties at our house and had family over for holiday meals. But, they didn't host too many dinner parties with their friends. I think this is one reason why I'm hesitant to practice hospitality in my home. But that's a flimsy excuse. My time at the Rural Generation Summit inspired me to try harder. To build relationships one invitation at a time.
How do you practice hospitality in your home? In what ways do you cultivate a sense of "home" when you move somewhere new? How do you invite people to learn about and celebrate your culture?
Rural Generation is facilitated by Art of the Rural and operated through core partnerships with ArtPlace America, the Center for Rural Strategies, First Peoples Fund, the Mississippi Center for Cultural Production, the National Consortium of Creative Placemaking, the Rural Policy Research Institute, Springboard for the Arts, and Summit host partners Alternate ROOTS. This initiative is supported by the National Endowment for the Arts, ArtPlace America and guided by a national Working Group and Executive Committee.