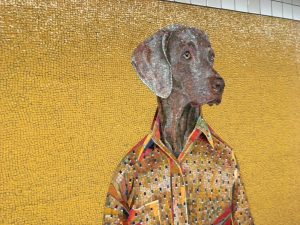 We conceived a day trip of meetings in NYC some months ago—thinking it would be a great way to kick off our marketing efforts in early 2019. Little did we know that the weather gods would smile upon us and deliver a sunny, 60-degree day in early February, just one week after the polar vortex.
My colleagues Anne Gadwa Nicodemus, Susannah Laramee Kidd, Rachel Engh, and I booked meetings with people and agencies whose work we admire, as well as present, former (and maybe future!) clients to check in on what's on deck for 2019 and explore opportunities to collaborate.
At the New York Community Trust I was eager to learn more about their work to support the creation and early implementation of the cultural plan Create NYC via the New York City Cultural Agenda Fund. They are now focused on equity investments via the Mosaic Network and Fund and are also supporting efforts for an inclusive census count in 2020. The census work, I think, will have resonance in other big cities like Los Angeles and Chicago.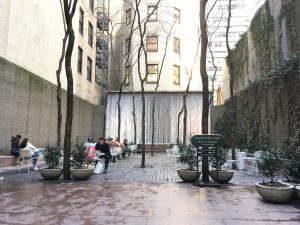 Prior to her Metris days, Susannah was a Mellon/ACLS Public Fellow. So, she returned to her roots with a visit to the American Council of Learned Societies. They geeked out on the evolving conversation around the engaged/public humanities and talked about how Susannah continues to use her "anthropologist hat," as she provides services that meet our clients' evaluation needs.
Susannah and Rachel sipped some fancy orange-infused water at ArtPlace America's Brooklyn offices, where our friends Sarah Calderon, Lyz Crane, and Jamie Hand gave us updates on their sectoral field scans and Community Development Investment grant research and documentation efforts. So much great work to hear about. We wished we had more time!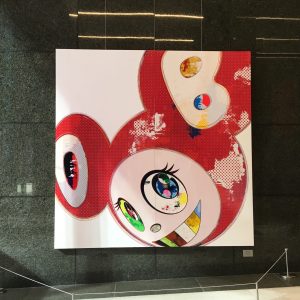 Then Susannah and Rachel caught up with Jan Cohen-Cruz of A Blade of Grass (ABOG). Jan used to work at Metris and hails from Fleetwood, PA, so she's a real Metris home girl. She shared exciting updates on ABOG's soon-to-be-released field guide on effective artist and municipal partnerships, a National Endowment for the Arts Knowledge Building Project.
Anne also was thrilled to have some face time with new Metris colleagues at PolicyLink—Milly Hawk Daniel, Amanda Navarro, and Alexis Stephens. We are about to embark on a new collaboration with PolicyLink and the University of Florida's Center for Arts in Medicine that will continue Metris' exploration of place-based arts and cultural strategies, social cohesion, and health equity. I've also been regularly consulting their cultural planning toolkit and am constantly learning how to center my work in equitable thinking and practices, and to help our clients to grow their capacity to do the same.
Anne and Susannah paid a visit to the newly renovated Ford Foundation Center for Social Justice and heard about their strategy and learning efforts. While there, they admired a mural in progress in the cafeteria and a Kehinde Wiley painting in the lobby. They also heard that the Center is opening up an art gallery, whose first show opens on March 5 and looks like it's not to be missed!
At Project for Public Spaces, we were delighted to meet new CEO Phil Myrick and re-connect with Metris pal Cynthia Nikitin. It was our good fortune to arrive just a few days after their "office warming" party at their fabulous new space near Astor Place. "Planning swag bag?" Yes, please! All fun aside, we had a great conversation on placemaking, creative placemaking, urban markets, public art planning and so much more.
I paid a visit to Wendy Evans Joseph, founder of Studio Joseph, an architecture and placemaking practice. We discovered several mutual professional acquaintances, and very much bonded over the possibilities of reinventing public spaces and engaging community through creative urban interventions.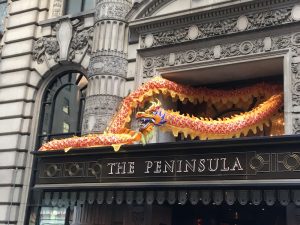 I'm the kind of person who is energized by the big city – I find the scope, the bustle, and the small moments of beauty and grace to be so inspiring. I asked my colleagues to snap photos to document their day and did they ever deliver. Maybe because it was such a nice day for walking around NYC, it felt like art was everywhere. Of course, mosaics were all over the subway, but we also encountered an arts and crafts tile detail in Chelsea, a large red Calder sculpture in a mid-town plaza, and a wonderful dragon emerging from a façade to commemorate the Chinese Lunar New Year. Even construction barricades got the Valentine's Day creative placemaking treatment. I happened to pass by Paley Park and saw many signs for "Privately Owned Public Spaces." Some nice, some not so much.
To all our pals in NYC who read this and are thinking – "Wait, what?! They were in NYC and didn't call or meet with me?" No worries, we'd love to connect sometime soon, one of us is in NYC nearly every month and we're only a quick 90 minutes away.